Yoga. It's become a mainstream symbol of mindfulness within the western world. It's a beautiful thing to see people of different faith, spiritualities and lifestyles come together to enjoy the benefits of yoga.
It only took a quick google to realise that the face of yoga has changed over time. Despite being Indian in origin, and having roots in Hinduism and Buddhism, it's now been reclaimed by the western world. As a result, yoga has become a stereotype practise attached to the middle-class white woman. Chatting to many of my South Asian friends also highlighted how yoga is something that is so far removed from our lives and identity, despite it originating in our homeland.
Yoga has become a palatable bitesized chunk of culture that has been repackaged and remodelled to be accepted into the mainstream, and the origins of yoga have now been replaced with Om tank tops, brand deals with lululemon and white yogis namaste-ing to their predominantly white class.
Despite its roots, magazine covers of yoga, yoga instructors and advertisements have become an industry; one that's been filled with white people, and we must ask ourselves why.
Often times, yoga is simplified by the assumption that it's all about exercising and maintaining yoga poses (Asana); in fact, this is just one faucet of it. Rather, yoga is an 8-branch practise that acts as a medicine and a philosophical way of life.
Yoga? More like Yoga™
Yoga is something that has made its way into mainstream pop culture. Om and Namaste have become buzzwords, and have been referenced so often they've become a part of a stereotype that feels mocking in nature.
What often follows after something enters pop culture? You guessed it: commodification! Not only have companies and various brands targeted products towards yoga fanatics (yoga mats anyone?), seeing Instagram Yogis clad in expensive workout gear can leave you feeling excluded from this practice if you don't adhere to the aesthetics pushed by the media.
We spoke to Maryam, a student whose roots originate in India, on her thoughts.
"All my life when I've thought of yoga, I think of western middle class white women who are into health and mindfulness.
Yoga is seen as posh and very white American, but it should be viewed as for everyone of all races, religions and wealth."
The truth is, you don't need a fancy pair or leggings or a hydro flask. Instead, something comfortable and breathable is necessary. Looking back at the traditional practise of yoga, a piece of clothing called a Dhoti is typically worn, which is a loose piece of clothing.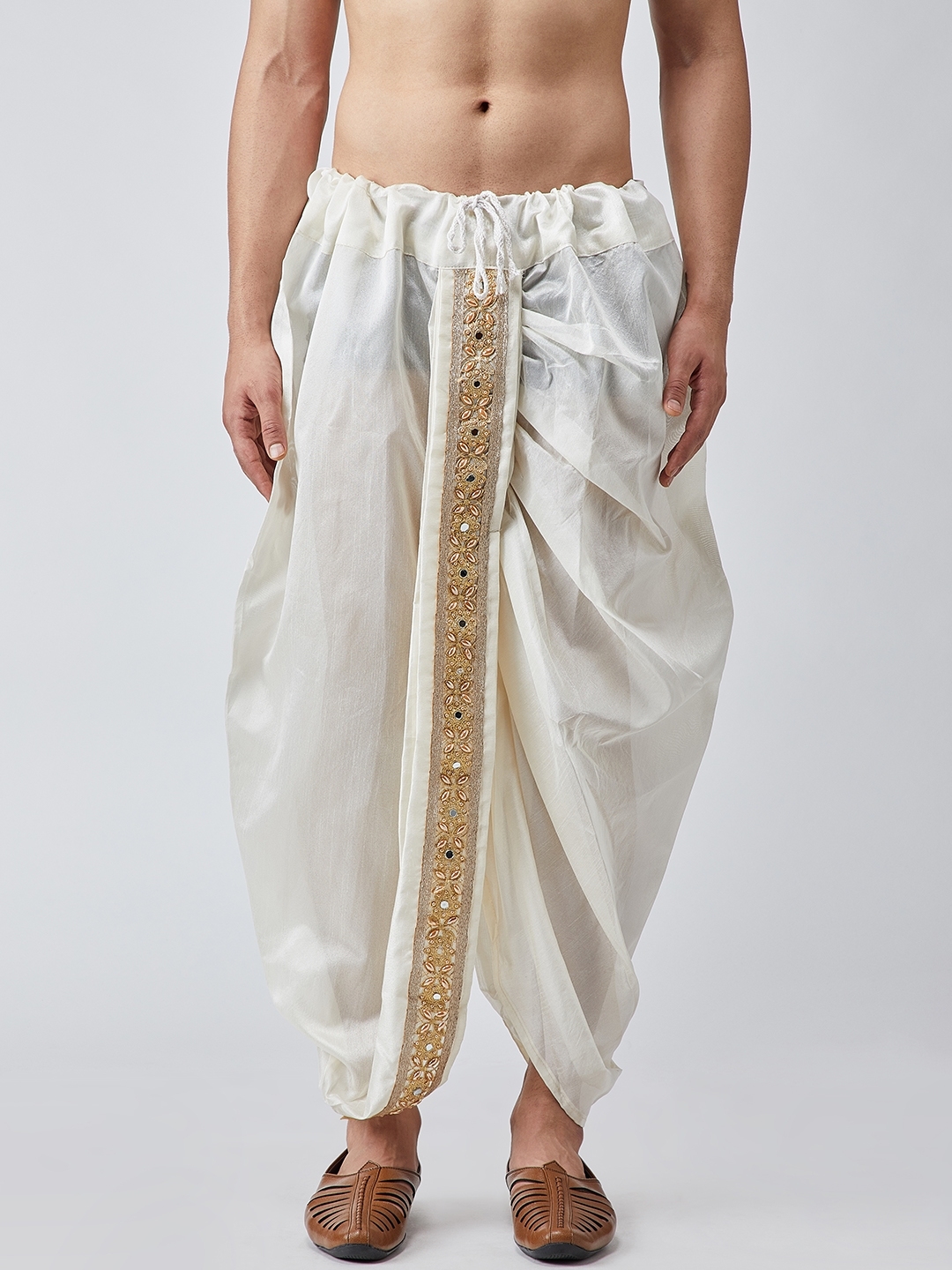 Yoga pants aside, the commodification doesn't end here. The rise of yoga has brought Hindu symbols and principles to the Western world, and they've somehow found their way onto Fruit of the Loom t-shirts and tote bags.
Just last year, Amazon were under fire for selling underwear and doormats with sacred Hindu symbols, garnering the trending #boycottamazon on twitter [I]. Urban Outfitters have also been a place of controversy in the past for selling Ganesh socks in 2014. Rajan Zed, president of the Hindu society, released a statement to appeal the removal of the item, stating;
"Lord Ganesh was highly revered in Hinduism and was meant to be worshipped in temples or home shrines and not be wrapped around one's foot" [ii].
This colonisation and commodification of yoga and Indian culture didn't happen overnight; rather we need to look back at history to see how we got to this point.
Yoga originally came to the shores of the USA IN 1920s when Indians saw a gap in the spiritual market amongst westerners.
Gradually it became marketed towards females with the promise of keeping them 'young and healthy' as well as sexually agile.
#whitepeopledoingyoga
Artist Chiraag Bhaktha - working under the name of pardon my Hindi, was commissioned in 2014 by the Asian Art Museum to compile an artistic piece on the history of yoga, and he was interested in depicting the white-I-fication of the Indian practise through compiling yoga ads and products from
the 1960s to the 1980s. And thus, #whitepeopledoingyoga was born.
He describes his installation as a case study on how "culture gets colonized, a pattern that holds across industries, from fashion to food to music. The installation was meant to show how overwhelming and suffocating appropriation becomes under a capitalist structure. Every piece in the installation was either selling something or was itself once for sale" [v].
What's ironic about Chiraag's installation is that whilst creating this piece for the Asian Art Museum, he faced censorship, criticism and backlash regarding his title (#whitepeopledoingyoga was deemed offensive) and his work was not published honestly in the Museum's agreed publishment in three different magazines.
Whilst frustrating and anger-inducing at the time, he describes it as almost comical looking back.
"Here were white elites exerting power over Brown critique that was explicitly about white elites exerting power over Brown culture."
If you want to read more about Chiraag's story and his fight for his piece #whitepeopledoingyoga, click here (We promise it's worth it).
-
Whilst it's a great thing that more people are enjoying yoga, various people have given their testimonies on how it makes them feel when they can no longer recognise or relate to practises derived from their own background.
Kamna Muddagouni is just one person that describes her experience of going to a yoga class [iii].
"The yoga class felt strange, as if I had somehow gone there in a misguided attempt to connect with what I thought was a part of my identity. Instead, as the class went on, I felt like an imposter. When the 45 minutes were up, I eagerly tried to scuttle away when I heard the instructor say 'nam-aasss-tay'.
The word was familiar to me. I'm a Hindi speaking Hindu girl from Mumbai. Namaste is my way of greeting Hindi speaking elders in my hometown Melbourne or a way of saying hello to most people back in India. But hearing namaste chanted by the white yoga instructor to a predominantly white class was unsettling. Really? If the yoga class itself wasn't white-centric enough, she really had to place the appropriative cherry on top."
Another issue people have spoken about is the conflation of yoga and Hinduism. Whilst yoga includes some shared elements, Hindu practises are often appropriated during yoga classes, even without meaning too.
Rina Deshpande writes:
"A friend of mine recently told me about an experience she had at a yoga studio where the teacher threw glitter on students at the end of class to resemble akshatha, the religious blessing of colored rice in Hinduism. This might seem benign, but it would be like offering chips and grape soda as if they were blessed bread and wine, which is sparklingly clear in its irreverence and irrelevance" [vi].
Having a cultural practise appropriated and simplified so everyone can participate in it without understanding the real meaning fosters a real anger and frustration.
To conclude
Many people may think this is another case of non-white people whinging about things that don't really matter.
It can be difficult for those who are part of the hegemony to truly understand the struggles of people of colour. Someone who has always fit in and never had to cross-examine their culture against mainstream society may not have the depth to truly understand how demeaning the appropriation of one's culture is to the sense of self.
The truth is, brown communities are still healing, with our fragmented identities only slowly being pieced together. For a long time, many of us have carried around shame of our cultural practices because they highlighted how different we were in comparison to everyone else. Many of us have felt displacement and disconnect to society around us. Many of us have re-evaluated our identities and have felt not good enough.
Whilst yoga is a great practice that can benefit many people's lives, it's important to respect the origins and practise it with humility and not try and reclaim it as something other to what it is. It's important for those who are white and are in a position of power – whether that be teaching yoga or having an online platform, to not encourage appropriation and to maintain clear boundaries between appreciating and sharing the greatness of yoga whilst respecting the culture it came from.
It is this lack of boundary and commodification that has led to Hindu gods being reduced to merch, white yoga instructors changing their names to sound more Indian, and white people publishing books like namas-slay (yes – it's a real book).
---